Buy Pre-Made Builder Board Sets
A complete 5 sheet of plywood set of Builder Boards  $2750
Unfinished (you do the varnishing) $2000
Materials:
3/4" Marine Grade Plywood (other plywood materials available upon request)
Finished with three coats of exterior varnish
For nonprofits the LEGO Children Fund (www.legochildrensfund.org) might be a possibility for funding.
For purchase or more information contact:
Jack McKee
Hands On Books
mchkee@earthlink.net
woodshop4kids.com
360 671 9079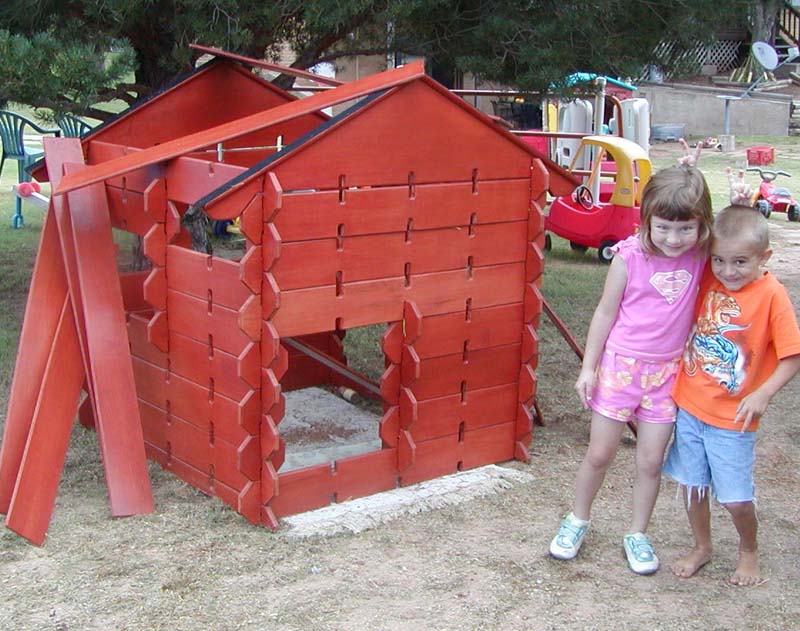 Builder Boards
promotes working together
develops creativity
encourages problem solving
teaches 3-dimensional thinking
encourages intergenerational play
can be used inside or out
stores in a closet
Set Details:
The basic playhouse footprint is 4′ X 4′ but kids will need more room to build.
The set includes approximately 160 pieces constructed from marine plywood and finished with three coats of exterior varnish. The actual number of pieces may vary slightly due to the quality of wood and different layouts for different plywoods.  Rest assure there are plenty of pieces to make the complete playhouse and other stuff too, at the same time.
18 ten notch pieces
8   eight notch pieces
12  six notch pieces
44  four notch pieces
66  two notch pieces
2 gable end roof pieces
2 ten notch splits (and two extras)
2 eight notch splits
2 six notch splits
2 shed roof supports
12 long roof boards
6 short roof boards
The 2 and 4 notch pieces come in boxes and the rest of the pieces are held together with bungee cords in easily moveable stacks.  The pieces total about 270 lbs.
The unfinished set includes all the same pieces that the finished but all the boards need to be sanded (the edges mostly) and the three coats of finish applied. This is about 30-40 hours work depending on how handy you are.
Cost
The finished set is $2750 plus shipping and tax if applicable- $500 deposit or PO required
The unfinished set is $2000 plus shipping and tax if applicable – $500 deposit or PO required
To give you an idea of shipping costs, from Bellingham, WA its about $200 to the western states, $250 to the midwest and $300 to the east coast.
I try to keep a set or two ahead but sometimes there will be a wait.
I try to make the set you need and want. Once I made a set using only the 2, 4, and 6 notch pieces for younger kids. I could replace the roof pieces with more long 10 notch pieces if anyone was interested in that.
Maintenance
It depends on where and how much they are used and how well they are taken care of.  Inside sets will last longer before they need to be refinished than outside sets. Both sets will need to be re-varnished and re-velcroed every few years. My set is over twenty years old and I have re-varnished it twice and put new Velcro on once.  I used the set every summer for twenty years. The set went to schools on loan for years. Its now at a children's museum  and still looks pretty good and works as well as ever.
Call, or email, if you want more details.
If anyone is thinking about a set I recommend they go to one of the 20 plus children's museums around the country and talk with people who supervise the sets. I have only built some of these sets; many were built by someone else from my plans.
If you live in the North West and if you would like to test out a set I have a loaner set available. You, however, must arrange and pay for transportation both ways. Contact me via email for details.